I always stared at the snowy peak of  Mt. Dirfi while I was on the ski bus on route to legendary Mt.Parnassus. Mt. Dirfi is a mountain in the central part of the island of Evia, which is an hour and a half drive away from Athens. From a distance, this mountain always looked easy to snowboard. Contrary to Mt. Parnassus, which spawned legendary riders like …ehh…hmm…Anyway, Dirfi has no lifts or resorts, so consequently no legends at all. The fact that it looked so untouched and so peaceful, made it even more intriguing for a snowboard descent. Perhaps the first ever Dirfi snowboard descent? I had always wanted to snowboard there. But as a teenager you could never actually see it up close and that's basically because you couldn't drive. Most of these facts and some of these thoughts were discovered and made in my teenage years. But I'd be lying if I didn't say I hadn't thought about it recently. I had. I have. So, it was based on the grandiose experience of always wanting to snowboard there, but never actually having been there, that I found myself climbing it a couple of Sundays ago, with Dimitris, Kostis and Konstantinos. This is 23 years since I first thought about snowboarding Dirfi. 23. Twenty. Three. My time on a snowboard the last few years has been reduced to zero and my time as a an experienced hiker never existed. As you may well imagine, Greece is not short of idiots like us. This has become very obvious in recent years. So, obviously, it was in our blood to keep our tradition true, strong and everlasting.
Our good friend and guide for the day trip was Alex, who unfortunately broke his tibia and fibula the day before. ( I didn't know what this was, either. FYI it's around the ankle.) He was actually the one who had convinced us to go there. However, as we had all cancelled other plans in order to make it and the weather forecast was sunny and our hard-ons were higher than the mountain itself , there was no cancellation option. We would go no matter what. As it turned out, it was sunny all over Greece except from the peak we wanted to climb. A phenomenon that actually happens quite often when you want to go snowboarding in Greece. Or Parnassus.
We arrived at the parking lot which is about a half hour hike from the refuge. A shelter, which usually operates during the winter months for extreme travellers. Like ourselves. There was enough snow to keep our excitement on full and our hard-ons on firm.  We started gearing up. We put on our snowboard boots, put on our thermals ( despite the 1˚C degrees at 9 am ), tried on our trusted snow shoes (what snow shoes ), our bâtons de ski ( is this a joke ?) and strapped our snowboards to our backpacks. My backpack weighed 12 kg. And my 5kg snowboard. 1kg per boot.. years of back pains and problems…well, I have to try this at least one time before I reject it , right? So, about 45 minutes later,  still trying to figure out what to carry and what not, how the freaking bâtons fold or unfold (w.tf.), getting slapped by each other's snowboards because we're definitely stupid and do not know how to manoeuver ourselves with our snowboards attached to our backpacks, we started hiking. Here is where I'd like to remind you that all four of us had never hiked up a mountain like this before. When I say like "this", I mean having all this gear and basically no experience whatsoever . We've hiked before so we could snowboard a nice steep side of a mountain but ONLY with our snowboards. This was new. This was groundbreaking. This was epic. We looked as retarded as this whole country does.
The scenery was beautiful though. As brainless as we were, the scenery could help us forget it. But there was fog all around it and we had no idea exactly where the actual mountain top was nor could we see any lines to ride down afterwards. There were moments where we could see that the fog might open up a bit but if it happened it would happen later. Maybe two-three hours later. Now, allow me to remind you that in the first fifteen minute hike we had already sweated our asses off and we were trying to figure out what we were going to do with our thermals and gear. The stupidity factor of the trip was being raised by the minute. As we reached the refuge, we decided to chill out as it was the only actual thing that we're really good at.
Around noon, after having long conversations with the odd couple who runs the refuge and chats with hikers and mountaineers who passed us on their way to the top, a friendly guide offered himself to walk us through the very first path and lead us to the "col" of the mountain. "Col". Yes, it's called a "Col". I just learned this word. How cool am I. Google it. Only from there could we see which areas were accessible to snowboard. Most of the people at the refuge had already warned us that the hike from here on was too icy and dangerous. It was a no-go area if we had no crampons with us. Crampons. But of course. How could I forget? We also needed crampons! And my main concern was that I had forgotten my oxygen mask. All this for a 1.743 meter hike. But who gives a fuck, we are snowboarders and the rest of you are pussies. We will continue. We will prevail.
Anyhow, as we reached the so-called "col", the fog had still remained. At some point it cleared up for a few moments and we saw a line that seemed ok to shred. The hike up shouldn't take more than 30 minutes but it looked quite steep. As the fog now hovered around only the top of the mountain, it was unclear how high we had to hike. So, we just began, as true mountaineers do, stepping in the footprints of the previous hikers. Needless to say, they weren't carrying as much weight as we did. Posers. Or as much as I did. Posers. Forty five minutes later, it was obvious who was the poser. I started thinking how ludicrous a guy with back problems can be when he's carrying 3 lenses, two cameras, two flashes, 5 packs of batteries, 10 rolls of films, cables, more batteries, more films ( ahh yes, had I forgotten to mention that I was carrying ALL of my photography equipment?!?!), a snowboard -of course- and the almighty fleece I always carry with me, in case the Ice Age hit the mountain that day. What we were doing was definitely stupid ( have I mentioned this already, not sure) as there was also no hint of good snow that we could ride on. There was probably more rock than snow on the mountain. And even though this made the hike easier it made the line we had picked to ride very sketchy. Nevertheless, we had become fearless. A mighty wolf pack. The wolverine quartet. The mythical Sasquatches.
The fog started moving away. The good vibes started kicking in. Our line was not that far after all. But since we had hiked this far up, we all decided that it was worth giving it a shot all the way to the top. I mean, what else could four morons do, right? I mean some of us carrying snow shoes for no snow, bâtons that failed to unfold, 20 freaking kg on our back ( which is 1/3 of my own body weight), trying to hike on all fours at an angle which wasn't helping at all.. we definitely owned this bitch. I mean, two hours and a half of excruciating quad burn, back pain and sweat loss to change 10 thermals meant nothing to us. We were the Tenzing Norgays and Edmund Hillarys of Mt. Dirfis. Or was it Mt. Dirf-this?
Anyhow, despite all the stupid things that I'm writing down here, eventually the fog was lifted and the amazing scenery was all revealed to us. I haven't felt like this for a long, long time. It was beautiful. It was so beautiful I peed my pants. Or was it another kind of fluid? So beautiful that I felt I could keep going on forever. It was also so beautiful that I really couldn't believe how much more I had to climb now, forget the hike, to reach the top. We always thought it was within the next 10 minutes and it never was. So, as skilful and mighty as we were, half of us decided to stop right there, at the beginning of our line and half of us, who could not get rid of the boner that had engulfed me completely, decided to continue to the top. This time with no backpacks and no snowboards, THANK GOD.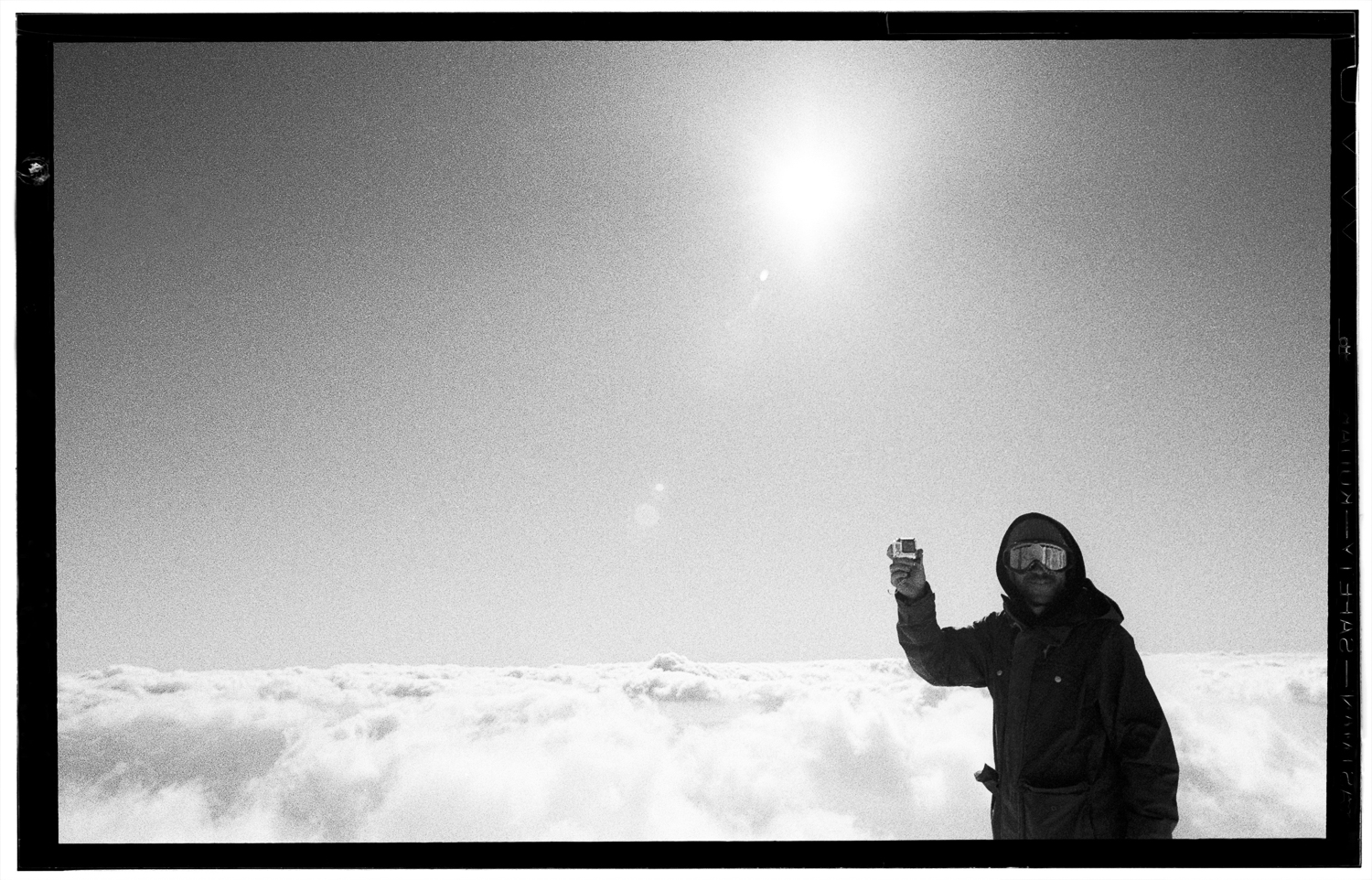 Half an hour later, feeling a bit lighter now from all the juices that had ejaculated from our bodies when we reached the top, we met again with the other half of the team and finally rode our 3 minute ride. The snow had softened up from the sunlight so the ride down was not that bad after all. There was even a minute of pure bliss. A moment where the feeling overcame everything. A moment of pure snowboarding.
As we unstrapped and started walking towards the refuge away from our lines,  we looked back and one thing was clear: We would have definitely NEVER hiked up "180 floors" ( according to an app that Dimitris had) with all this gear on our backs. Due to the fog, the ascent never looked as intimidating as it looked without it. Ignorance is bliss.
Strapping on our boards again one last time for a few seconds just to snowboard the short way to the parking lot, listening to the right track on my headphones, riding down among the trees, bathed in the afternoon sunlight of a 5 pm February afternoon,  one could say that I almost cried within my borrowed goggles. An enormous hard-on that had still remained and is probably too awful to explain had entered my whole body and mind. What a day!
The actual time we snowboarded may have been five to six minutes. And yet it felt as if it lasted the whole day. Maybe I'm exaggerating. Maybe not. You posers. What do you know?
______
Words & Photos: Theo Vranas
Comments