Last year's Project Detour showcased more the lifestyle side of a snowboard trip with friends than the most common triplecorkish aspect that we are used to watch around the net…
Not that the guys involved weren't capable of throwing hammers,they just wanted to describe the feeling of how you just completely get absorbed by other kind of cultures you find when travelling to completely different locations…
They actually did a good job…everything looked really natural and the whole picture really tied together the action along with the adventure and the lifestyle of each of the three locations…
Detouring never really stopped since then,so here is an extension of it with words and captions of some of the guys behind detour from their tzatzikiland stop…
Why did you choose such different locations for your project?
DBK: Why not? For me snowboarding has always been about adventures and exploring. Of course also about the tricks and the riding, but a big part why I do this year after year is the places we get to see. The thing is, most of the time it's the film crew who gets to see those places. The people don't really see them, since only the A-grade action shots make it into the movie. I tried to break that up a bit and show the whole trip.
Was the crew already figured out or you just randomly thought that would fit in for each location?
DBK: A bit of both. I was sure Shayne is going to join me all season since we both ride for Bataleon and ride the same kind of stuff. Also I knew Keller is going to be with us in California, since we both ride for Volcom and he's into bikes. Same with Müller, we both ride for Nixon. But a lot of times riders just joined us too. Austin for example called me up like a week before the trip asking if he can join.. haha
Do you have any interesting behind the scenes story for every place you've been for project detour?
Shayne: Well California was interesting. I had the trip all planned for the Euro guys when they came! We would surf then go straight to Mammoth and go shred then head thru Tahoe to Big Sur and back down to SD but all plans changed with a late season storm. We basically stayed in San Diego for an extra week surfing and stuck in rain and couldn't leave because we had Harley's. Then we tried to start the trip and within the first hour got caught in a rain storm and turned around. Then finally the storms passed and the whole plans for the trip changed. We ended up going straight to Big Surf first. Then to Tahoe and then to Mammoth and of course more snow and bad weather. Was a crazy little trip and on one of the last days leaving this zone by Mammoth the boys were surfing their motorcycles and we passed a police car rite on the road. Couldn't believe this guy let us go but an hour long lecture and some yelling and we learned our lesson and he sent us on our way. In the Alps we had some pretty funny run in's with other crews throughout the time I spent there. DBk brought me to this little resort up some windy road in Switzerland called Bosco Gurin. This spot is pretty well known now since the Absinthe guys and Gigi went a few years ago and aired off every roof in town. But I just expected us to be up there by ourselves and just shredding with the locals. Well I was wrong. We pull into town and as soon as we park to go walk into our hostel we run into Mike Ranquet! We end up shooting the shit with him and he tells us about how deep the snow has been and how cool of a place this was. I was stoked to get some inside info from a legend like that and I knew the week we were there was going be awesome. Well the next day we end up just shredding the town and building a fun rhythm line from top to bottom of the village. We had a blast riding that all day and then headed back to our hostel where it was pretty much just us crammed into a small room with 4 bunk beds. Well when we came back it wasn't just us anymore. We had 2 other film crews staying in the rooms directly next to us and they weren't just random snowboarders. It ended up being a bunch of my American friends and other european riders I've known forever. Small World! But the one crew was the Snowboarder Mag guys consisting of Austin Smith, Bryan Fox, Curtis Cizek, Ikka Backstrom, Liam Gallager and Cyril Muller. Then the shred bots guys Andreas Wig, Werni Stock and Craig McMorris were there too. Just so funny that we end up going to the most deserted, middle of nowhere resort and end up running into friends that I just saw half way around the world. CLASSIC!
Levi: Well I missed the party at the end of our trip because i was sick and had shitters. so, from what the others told I missed the most interesting behind the scenes stuff.. 😉
DBK: The clips are kind of the behind the scenes stories! Keller crashed his bike in California, that wasn't in the edit though. Haha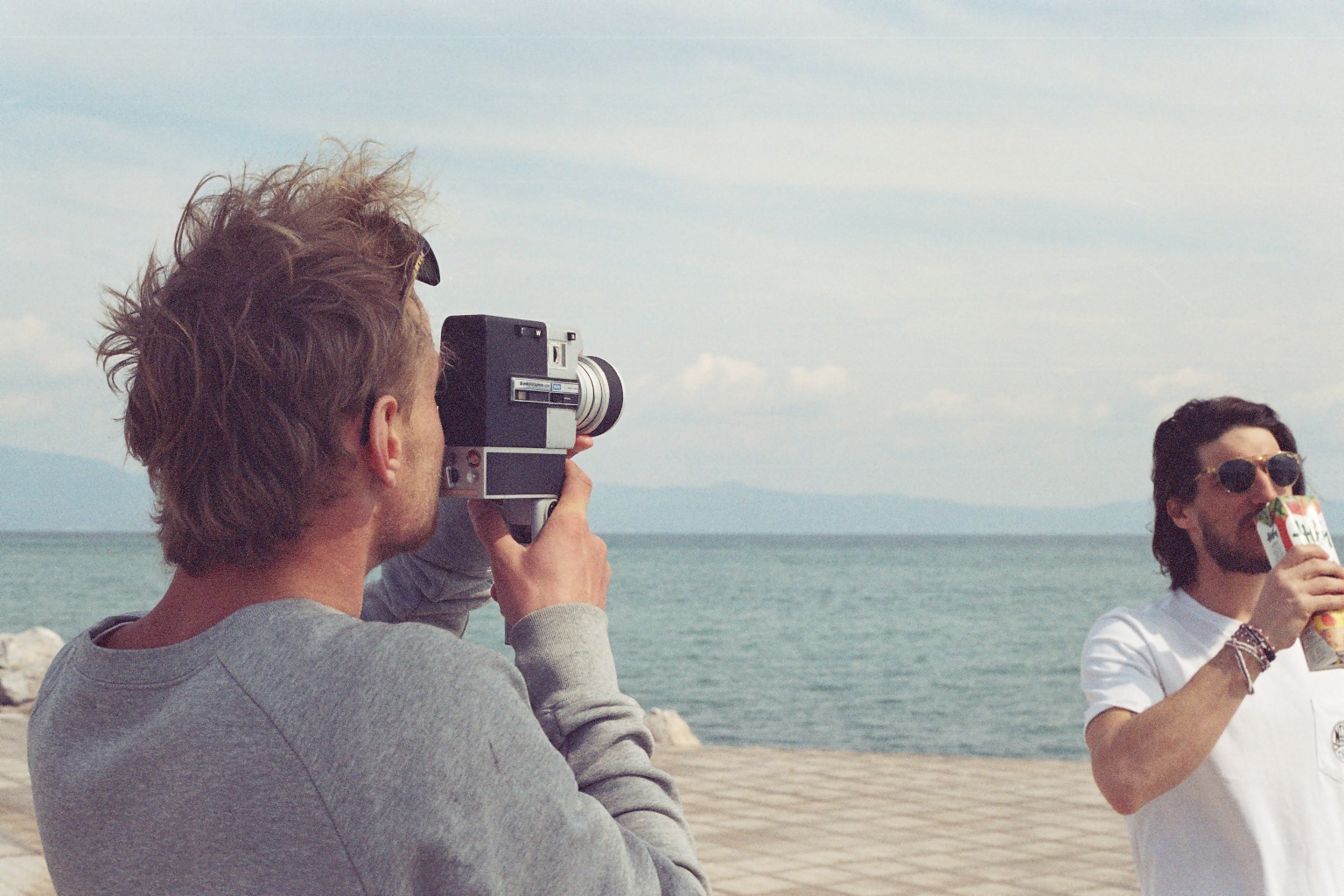 You made quite a different approach to the riding sections especially with the cruise through the villages,when others would choose random spots to jib…do you think you started a revolutionary sort of street chill funny riding with friends?
Levi: Why not? It was great fun and I recommend it to everybody. The cool thing is you don't need a lot to do this and it is basically for free, go for it!
Shayne: I don't know if we started a revolution for street cruising but those sections in Project Detour just really opened peoples eyes to wanting to just cruise snowy towns and cities and to make there own fun rhythm line or run. I've had so many people stoked on those sections and the video and comments on the posts saying that we have to build our own run like this or whatever. Pretty cool a simple fun run through a town could get people so hyped to go ride.
DBK: I hope so! People were into it that's for sure. I wouldn't mind if this becomes a trend, since I really enjoyed riding it too.
I saw through the episodes that you had a lot to eat… did you find any interesting recipes to bring back to your hometowns?
Shayne: I'm not much of a cook but DBK and the swiss crew definitely got me into some different stuff. Mostly the house dinners at his place near Zurich where we would use the raclette machine and have all types of different cheeses and fixings. I really enjoyed those dinners and it was definitely something I never ate in the US before.
DBK: I really really liked the feta cheese with the spices in the oven. Soooo good to dip your fries in there!
Levi: damn, whats that stuff called again? i think it was tomatos with some very tasty, melted cheese on top? i want more of that! it would be awesome if somebody sent that recipe!
thanks to all the Detour crew Cyril,Silvano,Hillton and a huge thanks to Microxtreme
______
Words, photos, interview: Ronny RSP